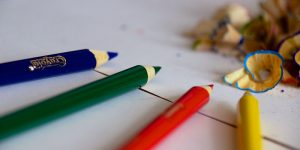 image by Wyncliffe "After all we are all just pencils..." available at  <

https://www.flickr.com/photos/wyncliffe/14833990393/

> under 

CC0
The Creative Commons Open Culture Platform's Working Group n. 5 is looking for a graphic designer/illustrator.
The CC Open Culture Platform Working Group 5 is a group of members of the global CC community. We work on a topic related to cultural heritage institutions such as museums and archives. 
Cultural heritage institutions sometimes apply CC BY, or other CC licenses, to the digital reproduction of public domain materials, while Creative Commons itself explicitly suggests CC0 or PDM as proper public domain tools.
The goal of the group is to understand the issue, including why it is happening and what are the needs of the cultural heritage institutions, and examine possible solutions. 
The outputs of the Working Group 5 will be:
– a brief report describing the issue, potential solutions, and their pros and cons;
– public webinar on the topic; 
– a blog post on the topic.
In order to develop a more accessible version of our report, the working group would like to realise an illustrated version of the report.
Period: Nov-Dec, 2022*
Expected output: an illustrated version of the report (the report could be abridged/ simplified) 
Language: English
License: The output needs to be released under CC BY 4.0 International
Budget: 500 USD**
Desirable Qualifications: skill in graphic design or illustration, interest in CC matters, basic English
Deadline: October 9th, 2022
*Our report will be finalized in October, and the illustrated version should be done by the end of the year. We will share earlier version(s) of the report to give you more time to think about the illustrated version.
** The actual payment is likely to come from two members, one in Italy and another in Japan. The budget includes the transaction fees and other fees. 
If you are a graphic designer, illustrator, or simply someone very good at translating concepts into drawings and realising them, and are interested in the project, you can contact working group 5 by filling out the following form: https://docs.google.com/forms/d/e/1FAIpQLSfNpVto7wleIDLL3faxs2ylsSmTSx3v6q0xtozsgDbJlRRXQw/viewform
We look forward to receiving your reply!
Best 
Deborah De Angelis and Tomoaki Watanabe
(CC Open Culture WG 5 Co-Leads)