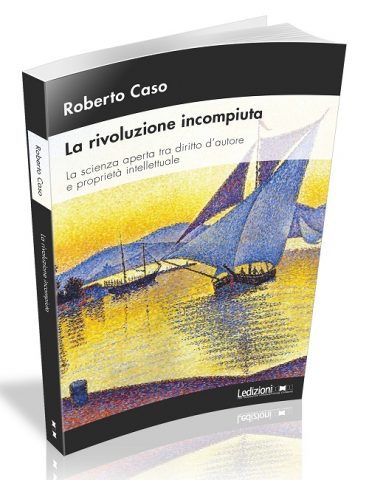 Segnaliamo che il volume "La rivoluzione incompiuta. La scienza aperta tra diritto d'autore e proprietà intellettuale", a cura del prof. Roberto Caso ed edito da Ledizioni – The Innovative LEDIpublishing Company, è disponibile in formato pdf  (ebook) con licenza CC-BY-SA sul sito Ledizioni.it.
E' interessante sottolineare che la scelta dell'editore è stata quella di rilasciare la versione in pdf del volume con licenza CC-BY-SA, consentendo dunque anche l'uso commerciale.
Segnaliamo, inoltre, una breve intervista all'autore del volume, disponibile sul sito letture.org.
Roberto Caso è professore associato di Diritto privato comparato all'Università di Trento, Facoltà di Giurisprudenza, e co-direttore del Gruppo LawTech. Insegna Diritto civile, Diritto comparato della proprietà intellettuale, Diritto comparato della privacy e Diritto d'autore e arte. Ha pubblicato in qualità di autore o curatore libri e articoli in materia di proprietà intellettuale, diritto della riservatezza e protezione dei dati personali, diritto dei contratti e responsabilità civile. È presidente dell'Associazione Italiana per la promozione della Scienza Aperta (AISA), e associate member del Centre for Intellectual Property Policy (CIPP) della McGill University, Faculty of Law (Montréal).