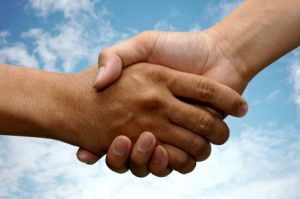 Immagine: Shaking hands di Casa Thomas Jefferson  rilasciata con licenza CC BY NC ND
Fonte Flickr
Cari Commoners,
siamo felici di annunciarvi una nuova collaborazione tra il Capitolo italiano e Wikimedia Italia!
Da ottobre, infatti, partirà uno sportello di consulenza sui temi riguardanti le licenze Creative Commons e il diritto d'autore, rivolto a tutti i contributori dei progetti Wikimedia.

Sarà la comunità stessa a proporre le domande e a scegliere una domanda a settimana a cui dare la risposta. Le risposte verranno, poi, raccolte e lasciate a disposizione sul sito per fungere da supporto anche in futuro.
Tutte le info utili qui:
https://it.wikipedia.org/wiki/Progetto:Coordinamento/Sportello_Creative_Commons
____________________________________________
Dear Commoners,
we are happy to announce a new collaboration between the CC Italian Chapter and Wikimedia Italia!
The project, that will start from October, consists in the creation of a desk to provide advice on issues related to Creative Commons licenses and copyright.
The community itself will propose the questions and choose one question per week to answer. The answers will be collected and left available on the web-site as support in the future.
All useful info here:
https://it.wikipedia.org/wiki/Progetto:Coordinamento/Sportello_Creative_Commons