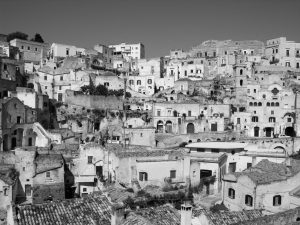 Sassi di Matera, Basilicata, Italia 
Foto di Antonio Sofi (with Enrico Bianda), rilasciata con licenza CC BY-NC 2.0.
Fonte Flickr.
Cari Commoners,
siamo felici di comunicarvi che il Capitolo italiano di Creative Commons di recente ha avviato una collaborazione con Materahub, un consorzio che gestisce progetti pilota internazionali per supportare industrie culturali e creative, favorendo l'innovazione sociale, l'innovazione tecnologica, la nascita di nuovi progetti imprenditoriali e lo sviluppo dei territori. 
Materahub e il Capitolo italiano hanno formalizzato la rispettiva volontà di cooperare per la diffusione delle licenze nell'attività del Consorzio. 
Materahub è, tra l'altro, Centro Europe Direct per Matera e provincia, nonché punto di informazione ufficiale riconosciuto dalla Commissione Europea per la promozione di bandi e iniziative messe in campo dall'UE, con l'intento di favorire il senso di cittadinanza europea (soprattutto tra i giovani) e la conoscenza delle opportunità di finanziamento da parte di imprese, enti pubblici e organizzazioni del terzo settore. 
Il Capitolo fornirà supporto circa il corretto utilizzo delle licenze CC in relazione ai diversi progetti seguiti da Materahub, nonché sull'organizzazione di convegni, seminari, webinar, e incontri sul tema dell'open culture, dell'open education ed in generale della condivisione della cultura e della conoscenza, con l'auspicio che nel corso della collaborazione si definiscano quante più possibili aree di interesse comune in cui collaborare.
Crediamo fortemente che dallo scambio con questa realtà possano emergere numerosi spunti di crescita e confidiamo che sia solo il primo passo per una stimolante e proficua  collaborazione.
___________________________________________
ENGLISH
Dear Commoners,
we are happy to inform you that the CC Italian Chapter recently started a collaboration with Materahub, a consortium that manages international pilot projects to support cultural and creative industries, encouraging innovation and inclusion processes and a new entrepreneurial vision to face contemporary challenges.
Materahub and the Italian Chapter have formalized their respective will to cooperate for the dissemination of the CC licenses in the Consortium's activities.
Materahub is also a Europe Direct Center for Matera and its province and the official information point recognized by the European Commission which aims to promote calls for proposals and initiatives put forward by the European Union and convey the sense of European citizenship and enhance knowledge of funding opportunities by companies, public bodies and third sector organizations.
The Chapter will provide support on the correct use of CC licenses in relation to the various projects of Materahub, as well as on the organization of conferences, seminars, webinars, and meetings on the topic of open culture, open education and in general sharing culture and knowledge, with the hope to extend collaboration areas as much as possible.
We strongly believe that numerous ideas may emerge from the exchange with this reality and we trust that it is only the first step for a stimulating and fruitful collaboration.