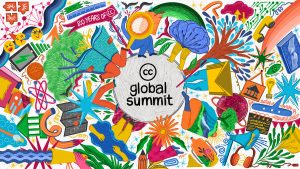 Artwork by 

Sonaksha Iyengar

, licensed CC BY 4.0
Torna il Creative Commons Global dal 20 al 24 settembre 2021.
Quattro giorni di eventi, incontri, discussioni, dibattiti, workshop e pianificazione del futuro, che vedono la presenza di centinaia di attivisti, sostenitori, bibliotecari, educatori, avvocati, esperti di tecnologia e altri.
Il Capitolo italiano di CC parteciperà attraverso la sua Chapter lead, Deborah de Angelis, che presenzierà come relatrice in due diversi panel:
21/09/2021, ore 12:30: "Creative Commons for Privacy Commons: How CC can Inspire Creation of Legal Tools for Managing Privacy Issues on-line."
Deborah De Angelis e Guido Scorza (Componente del Garante per la protezione dei dati personali).
22/09/2021 ore 15:00: "Attributing Public Domain Materials: From Best Practices to Standardization".
Deborah De Angelis, Brigitte Vezina (Director of Policy, Open Culture and GLAM, Creative Commons), Sarah Pearson (General Counsel, Creative Commons) e Fiona Romeo (Senior Manager, GLAM & Culture, Wikimedia Foundation).
L'intero programma è disponibile qui: https://summit.creativecommons.org/2021-program/
NON MANCATE!!